The Gazette
Here are our latest articles:
Buddhism Trip Year Five
On Tuesday 1st May, Year Five visited the Buddhist Centre in Leicester. We learned that the centre is a special place of tranquillity, relaxation, friendship and reflection. When we entered the centre, we were able to practise breathing meditation, allowing us to relax and think positively in a calm and quiet atmosphere. We were also shown a number of Buddhist shrines and symbols and were taught how these were important to Buddhist believers. We looked at seven bowls that represented different aspects of Buddhism including growing our generosity and reducing our selfishness and greed. Finally, we heard the story of Buddha, and how it is important to remember that material goods do not make us happy. Instead, we should be grateful for our families and friends and the good things in our lives.
"I felt really calm and relaxed inside the centre. It was a fun morning!" – Dante.
Year Five Phonics Helpers
Every day, a group of Year Fives help out Year One with their reading of phonics. In phonics, there are three phases that we look at to help the younger children with their pronunciation of key sounds. We work on phases two, three and five, beginning with 'monster words.' 'Monster words' are not real words but help the children to read different sounds by putting 'sound buttons' beneath the syllables, enabling them to read the word aloud correctly. When the children read the words aloud correctly, they then move on to the next phases of 'monster words' which are slightly more tricky.
"I've really enjoyed helping out in Year One and it's great to see the younger children sounding out words carefully with my help." – Harvey.
The Galleries of Justice – Year Six
Year Six visited The Galleries of Justice on the 27th April. At the beginning of the day, we visited a youth court where we learned more about different types of courts and what they were used for. We then performed 'Caught in the Past,' re-enacting the court case of 'Isabella Makin.' It was an exciting role-play of a real-life trial, exploring whether or not Isabella was guilty of stealing. Our excellent prosecuting lawyers managed to convince the jury that she was guilty and sentenced her to five years in prison! We were then shown around the galleries and were able to see the weapons of the past and hear about the punishments that criminals suffered in the past.
"I loved being part of an old-fashioned real-life trial and was able to see what it would have been like as a criminal in the past." – Stephy.
Beaumanor Hall – Iron Age and Celts
On the last week of the Spring term, Year 3 concluded their 'Stone Age to Iron Age' History Topic by visiting Beaumanor Hall to learn more about Iron Age and Celtic life through active and hands-on experiences. Children were able to participate in a Celtic battle, becoming real warriors with swords and shields. Next, we used 'Roman Heads' to kick around an obstacle course in an alternative game of football. The game was created by the Celts as a means of scaring off any unwanted Roman invaders where victims' heads were displayed as a warning! After this, it was time to practise our hunting skills through target practice. Children tested their accuracy by throwing wooden spears at an animal-shaped target, imagining that they had been tasked with gathering food for the rest of the community. We then took part in a series of everyday Iron Age domestic jobs such as grinding corn and wheat into flour to make bread; fashioning beads out of clay to make jewellery; weaving materials to make clothing; grinding lavender to create medicine for healing the injured and finally, entertaining the family in the hut by making music.
The children had a fantastic day and were able to imagine themselves as Celts living in Britain.
"I loved the battle the best, pretending to fight like a Celt was really fun!" – Joe
"I really liked making jewellery and can't wait to see it on a string to wear as a necklace." – Darcey
"Being a Celt would have been exciting, especially throwing the spears at animals when they were hunting." – Oliver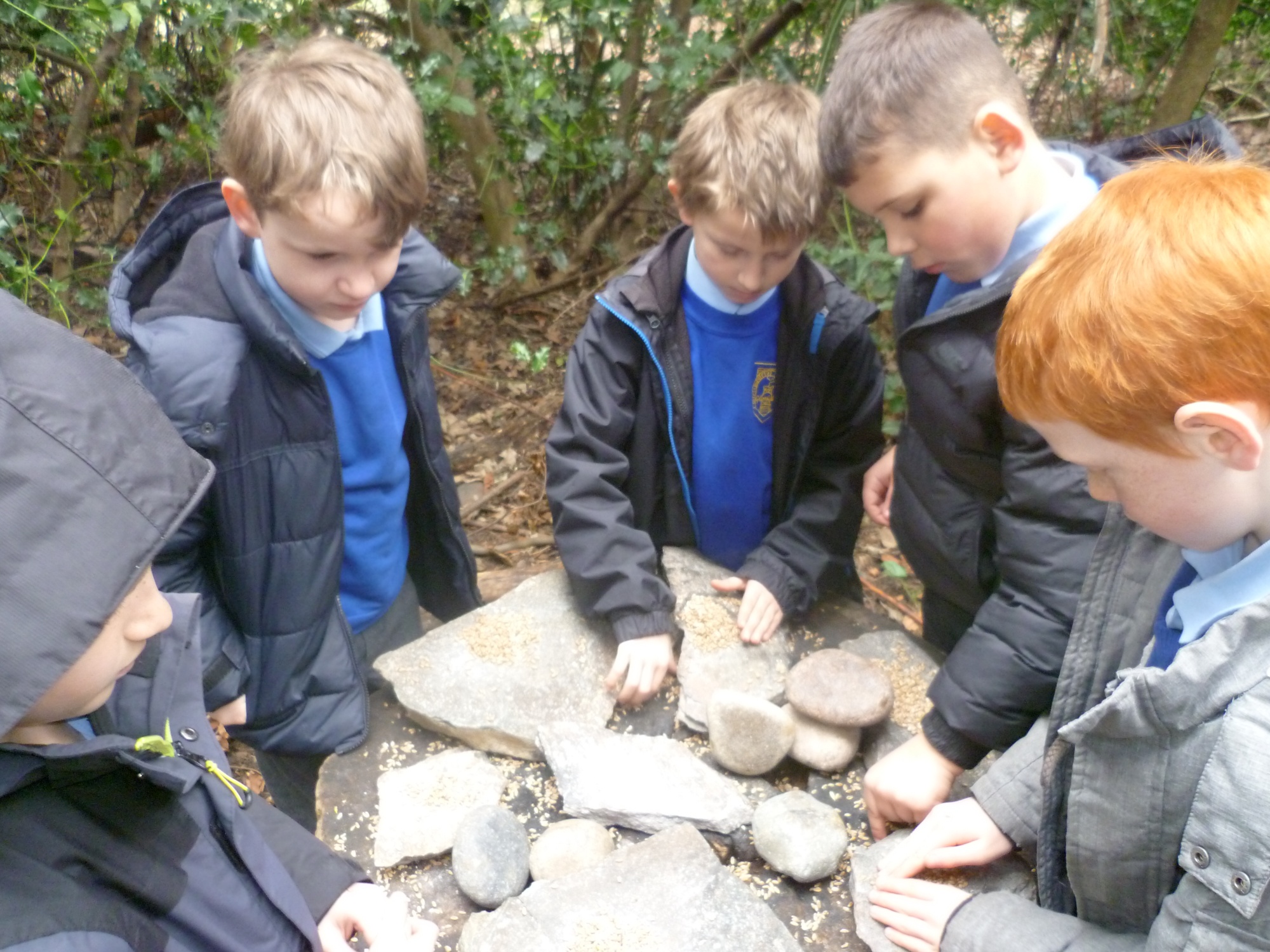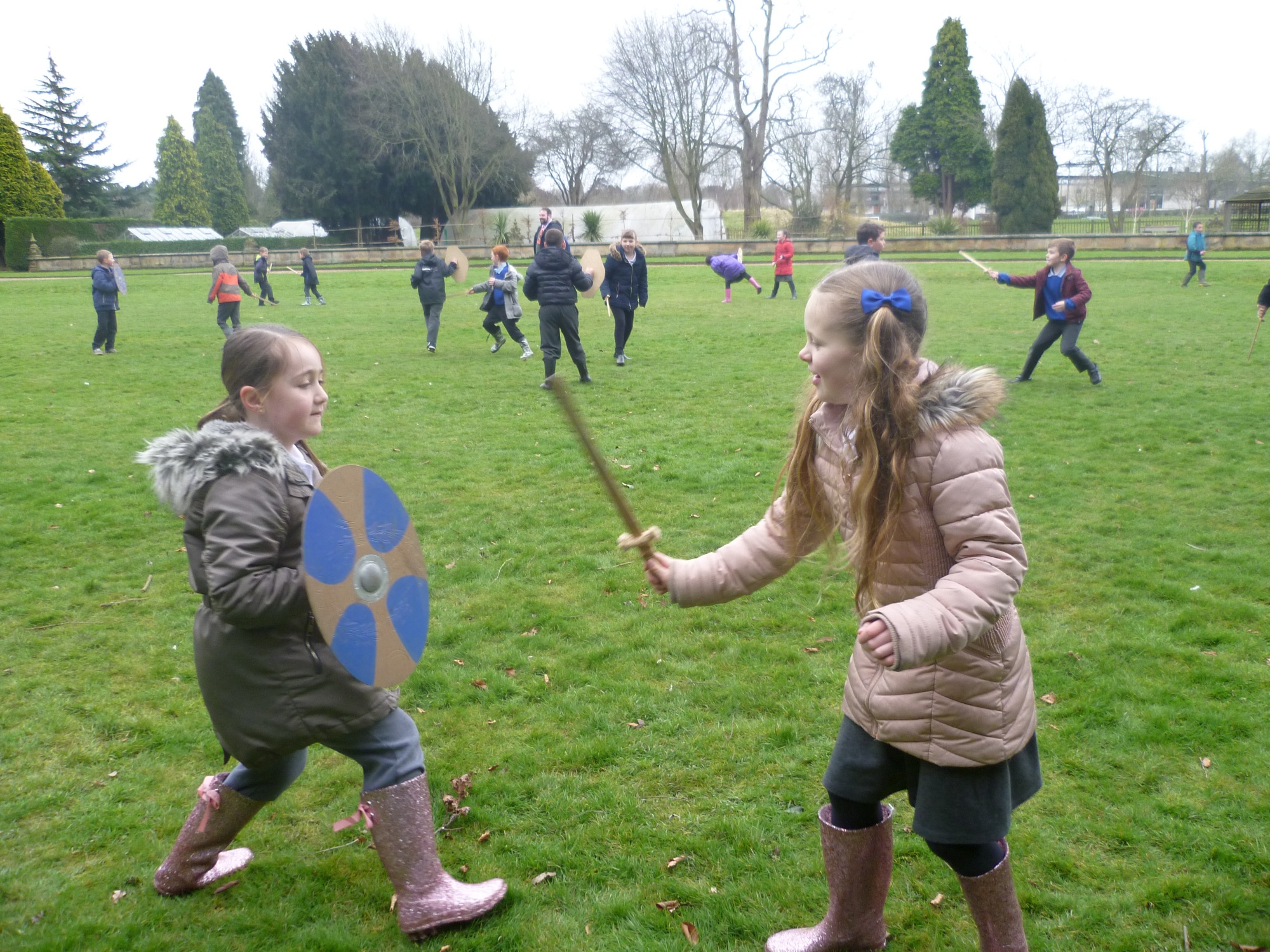 John Dougherty – Poet Visit
Glenfield Primary were lucky enough to be visited by famous children's poet, John Dougherty, during the last week of term. John is best known for his 'Stinkbomb & Ketchup-Face' face series as well as his hilarious 'Dinosaurs & Dinner-Ladies' poem which John recited himself. The children were excited to hear a real poet performing his own poetry and were surprised to find out that poetry can be out anyone or anything- and that it doesn't have to rhyme! John also performed a silly but very funny poem called, 'Auntie Fred' using his guitar, where the children joined in with the chorus and showed fantastic cooperation and enthusiasm. The children also asked some superb questions about John's inspiration for his poetry and were keen to write their own poems later in the day, when John had left. John Dougherty left the children feeling very inspired and eager to test their creativity during the afternoon when writing their own poetry.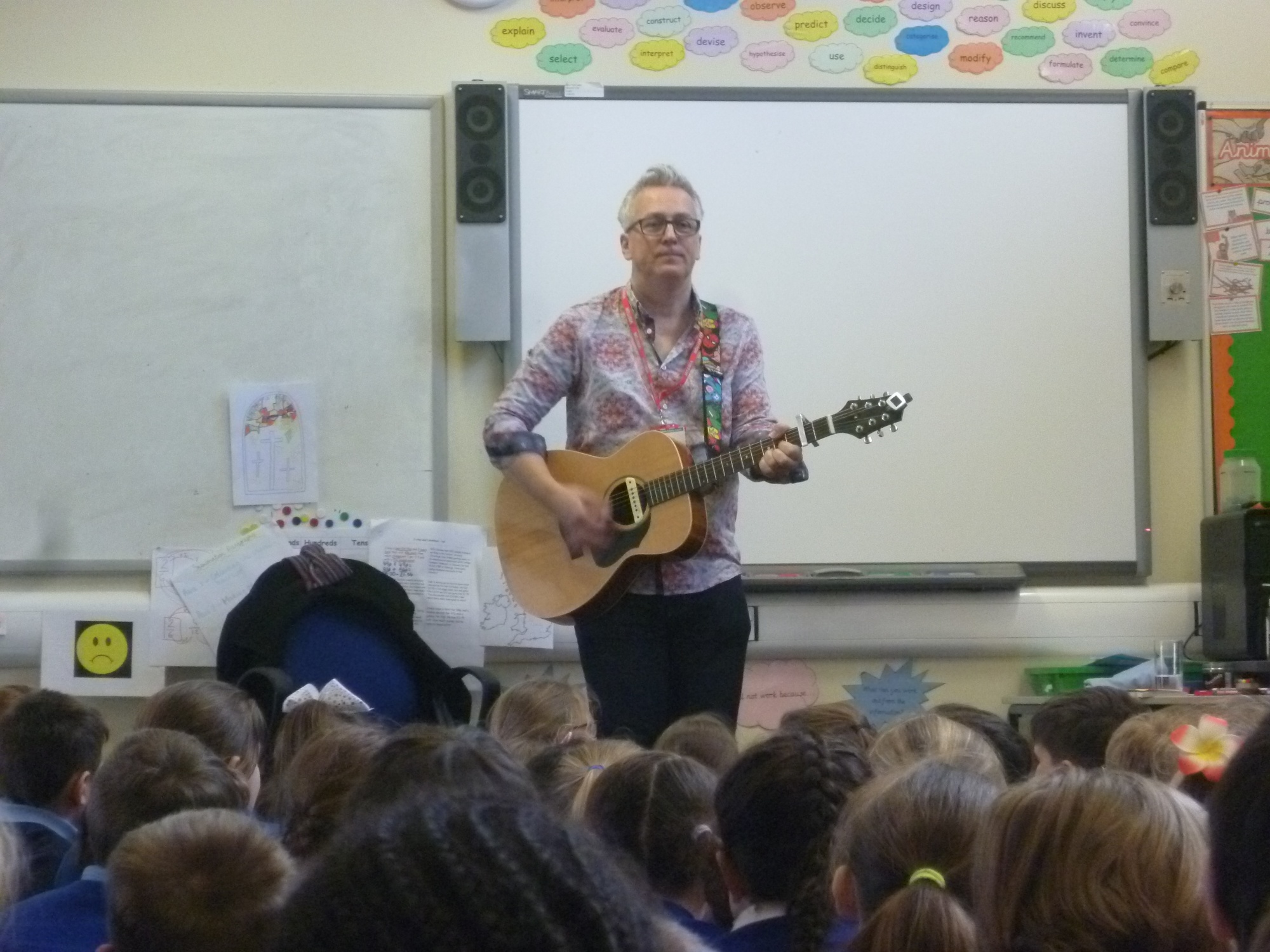 Boccia Competition – Deciders
On Tuesday 20th March, a group of children from Deciders class competed in the Level 3 School Games PAN Boccia competition. This was hosted at Green Towers Leisure Centre in Hinckley. The team performed really well and showed great sportsmanship. We were very proud of their achievements and they represented our school fantastically.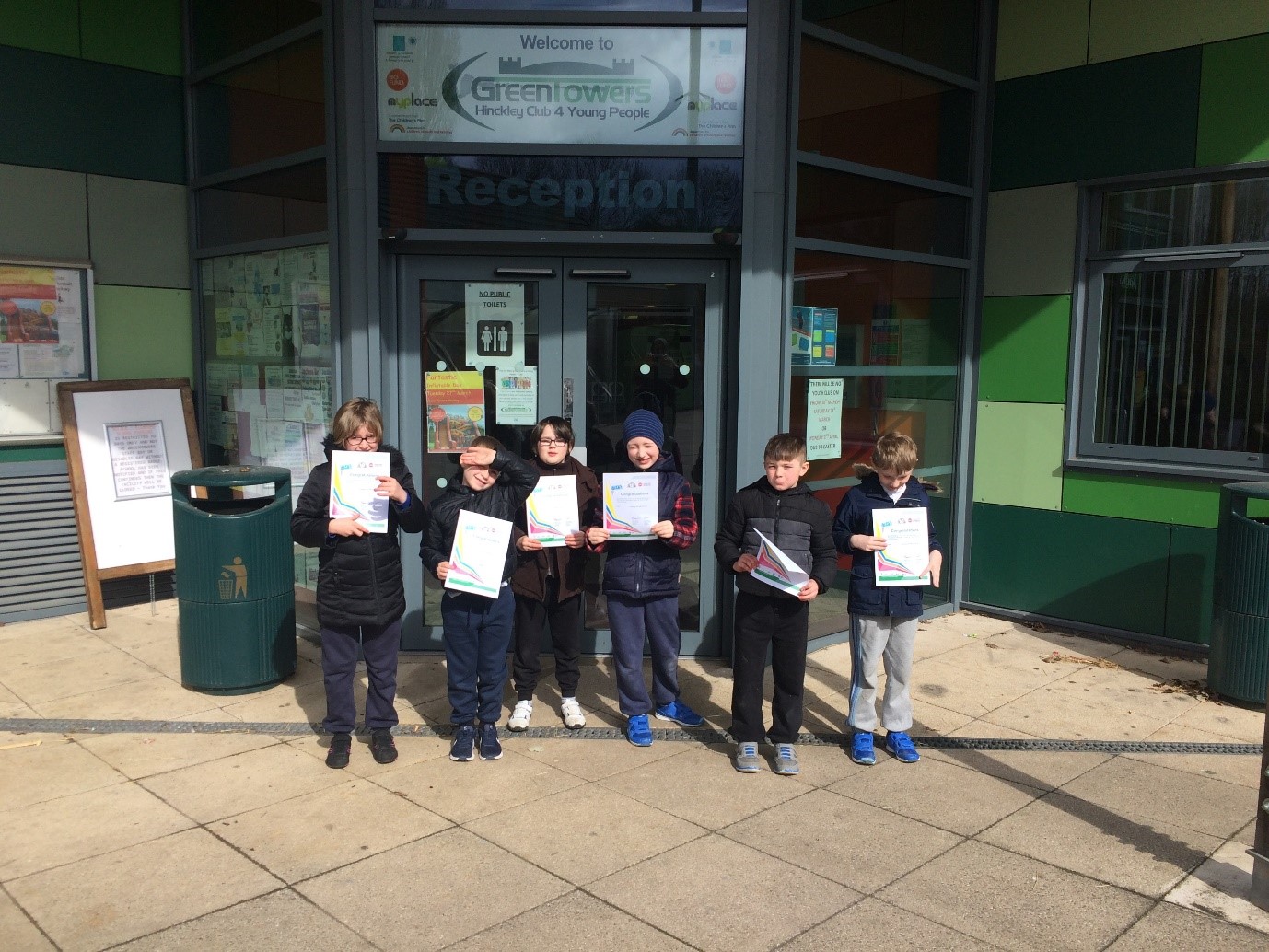 Pride of Glenfield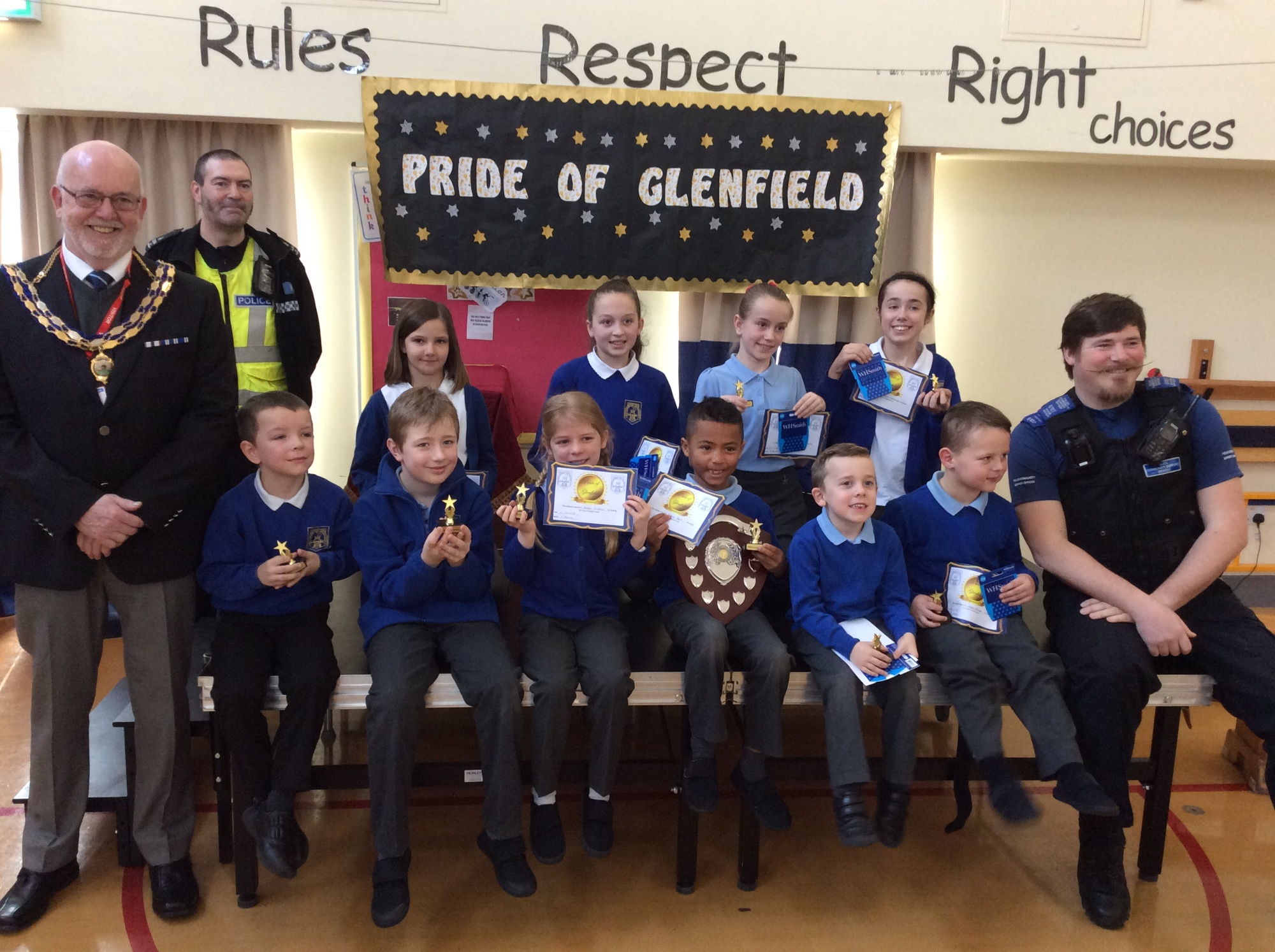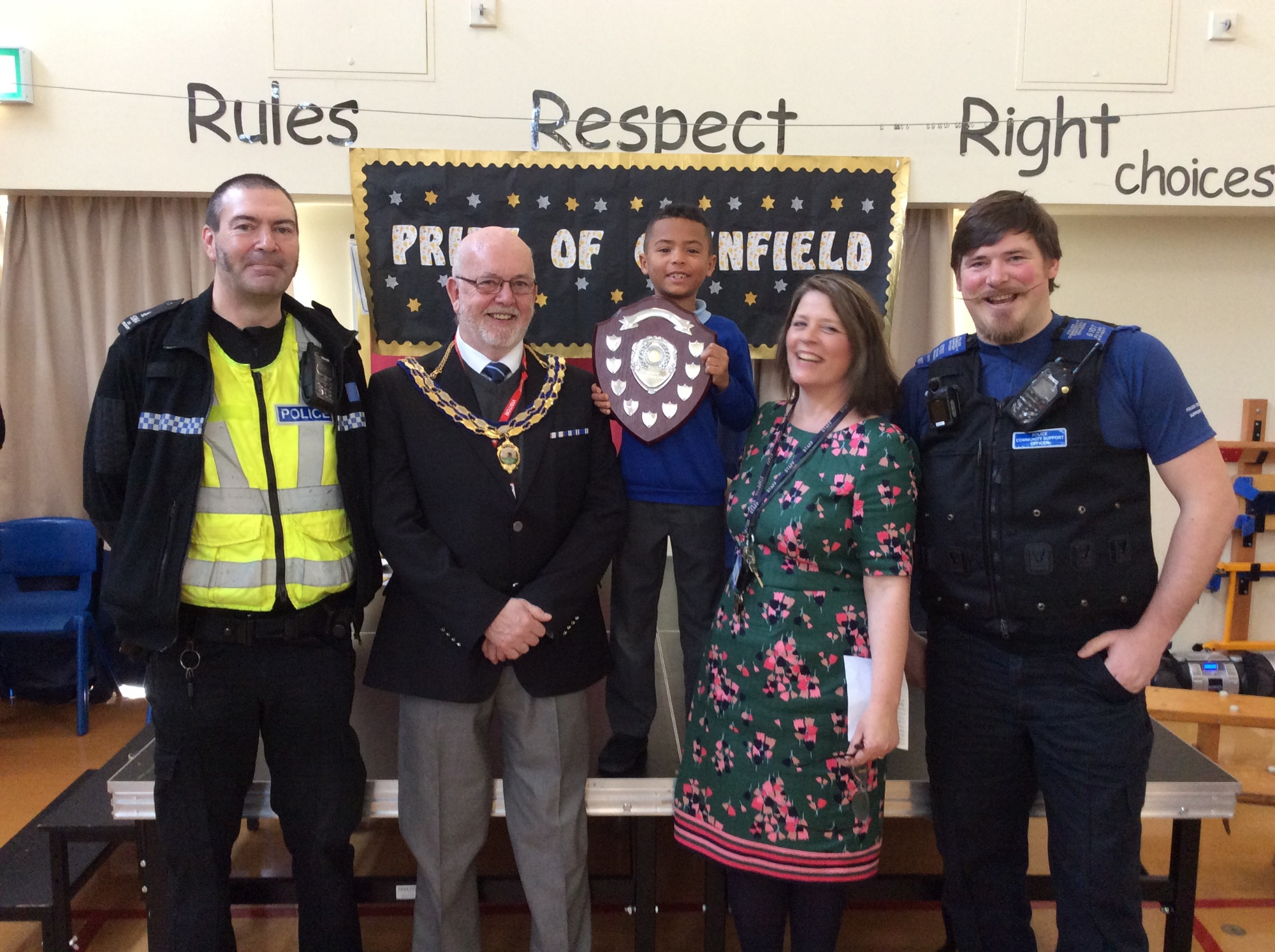 On 23rd February, we held our third Pride of Glenfield ceremony, joined by members of the parish council, local police officers, parents and carers. Pupils who demonstrate the positive characteristics we promote at the school are rewarded in a number of ways each week and these awards acknowledge some of the children who consistently make a positive contribution to the school through their efforts. The children received a trophy, a certificate and a gift and one pupil also receives the special trophy, donated by the parish council. Many thanks to everyone who attended and to all the children at the school for helping to make this such a memorable event.
World Book Day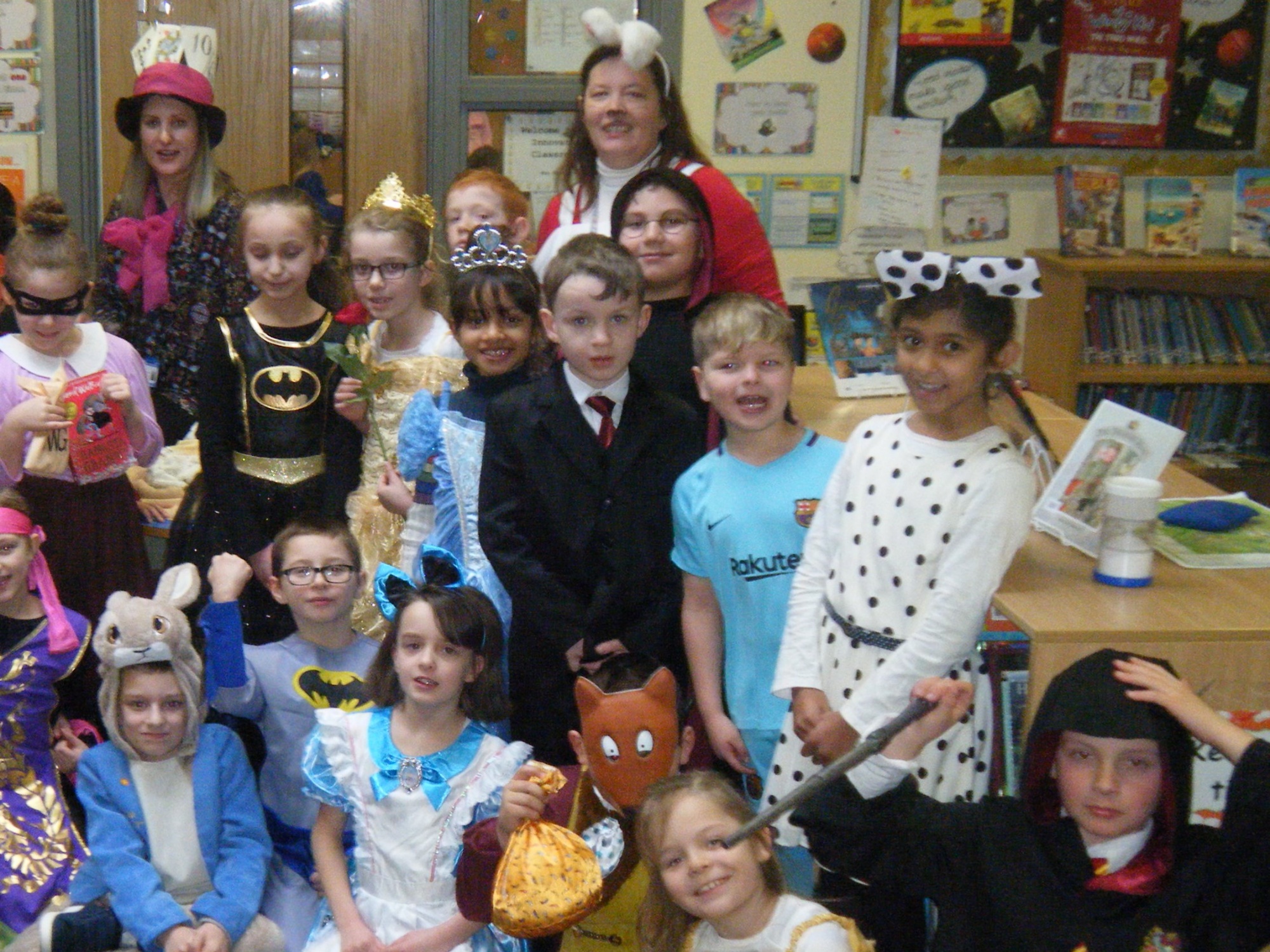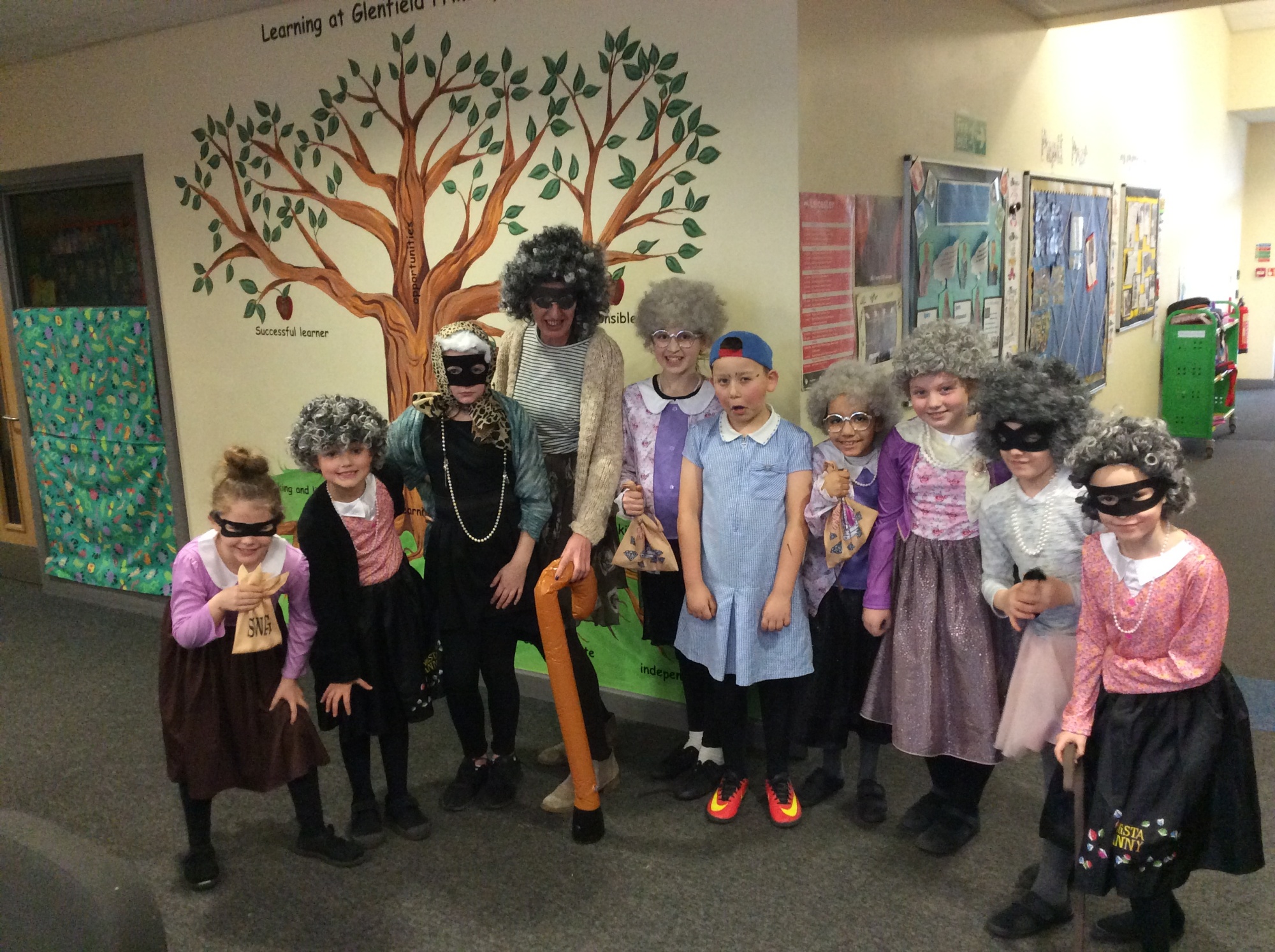 On Thursday 1st March students and teachers dressed up as their favourite literary character to celebrate World Book Day. Everybody made a superb effort and there were some very creative costumes! Year 6 classrooms transformed into the wonderful world of Oz as teachers dressed up as Dorothy, the Cowardly Lion, the Tin Man and the Scarecrow to celebrate their class-read, The Wizard of Oz by L. Frank Baum. There were also a number of Gangsta Grannies who arrived dressed as David Walliams' notorious thieving Grandmother! Many children were also under the spell of Harry Potter and were eager to discuss the magical exploits of J.K Rowling's infamous characters. The children and the staff had a great day hearing about one another's favourite stories and characters, sharing books together and simply experiencing a love of reading.
"I came dressed as Harry Potter because he is courageous when fighting against Lord Voldemort. His scar shows the love of his mother because she saved him when he was a baby." Oliver.
"I love David Walliams' Gangsta Granny because she is not a normal Granny! She is a thief and steals jewels and she stinks of Cabbage Soup! The book is really funny!" Chloe.
"I was Fantastic Mr. Fox. I love all the Roald Dahl books but Mr. Fox is the most clever and sly. It was good fun seeing everyone dressed up today, even the teachers!" Harley.
Multi-Sports Festival Year 2
On Tuesday 27th February, nine Year 2 children from Glenfield Primary School went to Charnwood College in Loughborough for a Multi-Sports Festival. The Year 2s had great fun trying out a range of sporting skills which were organised by the college's Year 7 Sports Leader students. The activities included throwing balls and bean bags at different types of targets, balancing on a mini beam, dribbling with a basket ball, curling, step-ups and mini-golf. The children had about 10 minutes to do each activity and worked really well together, showing great co-operation and teamwork skills. All of the children enjoyed the afternoon and tried really hard to score points for their team. They cheered each other on and showed very good sportsmanship. Well done everyone!
Times Table Rockstars
To improve our knowledge of times tables, we have been answering multiplication and division problems against the clock on Times Table Rockstars, a popular website amongst Glenfield students. You must earn coins by completing as many times table questions as you can, in a set time. By playing in the 'Studio' and completing the challenges, you can find out your average speed per question. For every correct answer, you receive a certain amount of coins. Coins can be exchanged in the game's 'shop' for clothing and instruments for your individual avatar. If you don't wish to spend your coins then you can try and climb the ranks in the current balance section of your class ranks. Or, if you can't resist the temptation, you can still spend your coins and be at the top of the 'Total Earning' section. We all feel that this game has helped us with our times tables in many different ways. For some of us, it helps to build our recall skills and for others, it simply supports us across all areas of maths.