Year 4
Teachers:
Innovators- Mrs L Jameson
Analysers- Miss S Bennetts
Support Staff:
Mrs M Dean
Mrs Z Elkington
Mrs S Rudkin
March 2017
In English we have been writing explanation texts linked to Wallace and Gromit's cracking contraptions. The children have enjoyed watching all the videos and then thinking about including all the features of an explanation texts to write some fantastic explanations! This half term we are going to be focussing on the narrative Charlotte's Web. We're sure the children will thoroughly enjoy this and produce some more brilliant writing.
In maths this term we have covered a range of topics. We looked at fractions and the children were able to practically explore equivalent fractions and fractions of amounts, they even got to use chocolate! The children have also been focussing on time this term, learning how to tell and draw the time to five and one minute intervals.
In Science we have been learning all about our teeth. Children have learnt all about the different types of teeth. They have been discussing the importance of looking after our teeth. They got to create their own television advert to promote their own toothpaste and also got to use a disclosing tablet to discover how much plague was left on their teeth after brushing. Even Mrs Rudkin got involved! Next the children are going to be exploring the digestive system.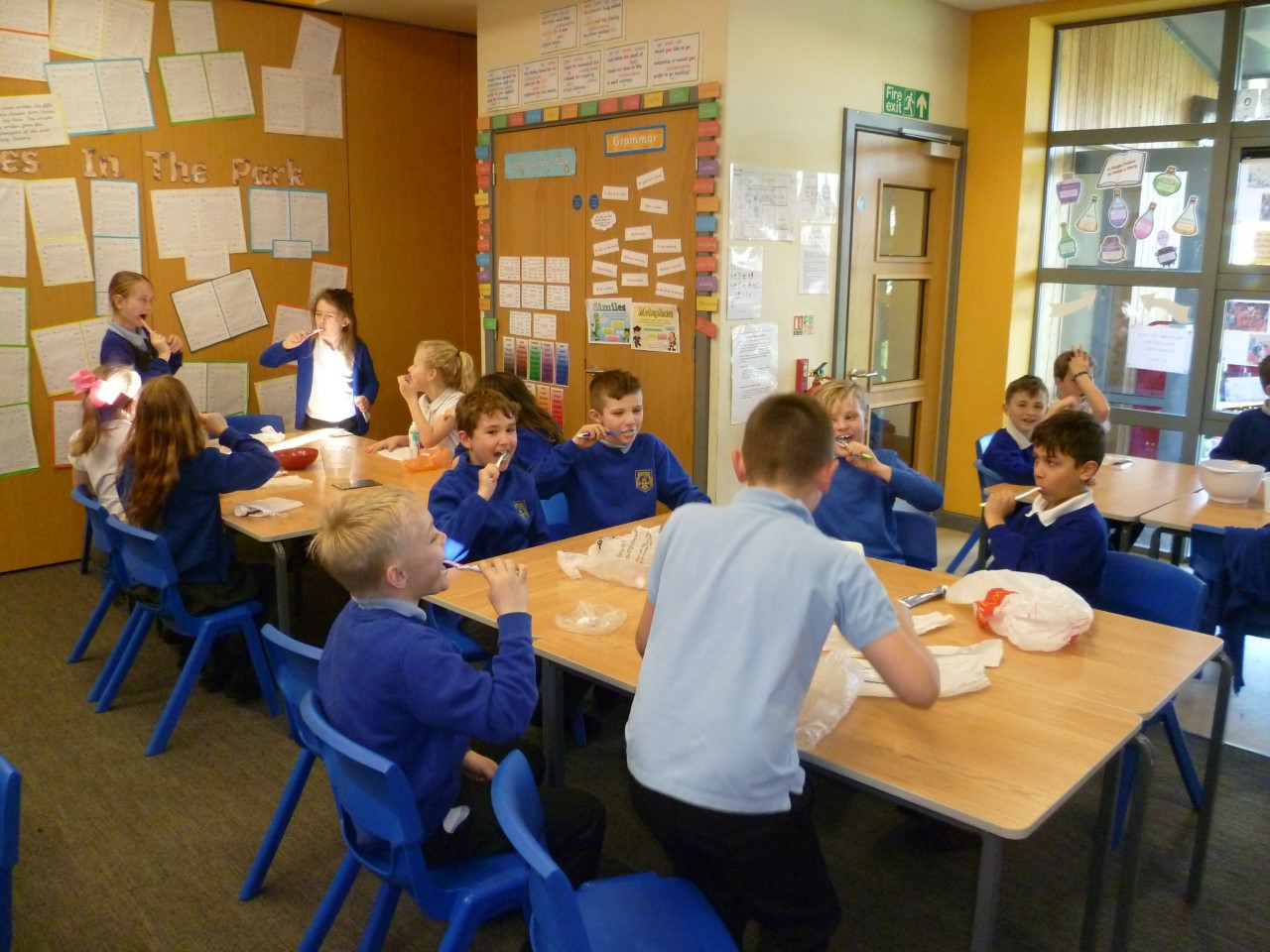 In Geography we have been looking at different settlements and using an atlas to locate UK cities. We also discussed why people would move to Leicester from other places in UK and got to write
Autumn Term 2016 Update
Year Four have got off to an exciting start to the year! Our visit to the Hindu Temple and our Roman day visitors were thoroughly enjoyed by all.
In English through the story of Alice in Wonderland, we have learnt about descriptive writing and the children enjoyed applying this knowledge by writing their own fantasy story. This half term we will be linking our English work to the text Escape to Pompeii. The Children are already eager to learn more!
In Maths we have worked hard on our place value and our addition and subtraction skills. Throughout most of our maths lessons, we have been given the opportunity to apply our knowledge in a problem solving contexts. This half term we are going to be focusing on multiplication and division.
For our Science work we have learnt about how to classify living things using keys. We even went out and collected our own invertebrates.
In History we have been learning all about the Romans.