Prospective Parents
Is your child due to start school in September 2024?
We would love to show you around our lovely school and discuss our high expectations and the quality of our provision for all children. If you would like to arrange a visit, please contact the school office on 0116 2872188 or email office@glenfield.leics.sch.uk.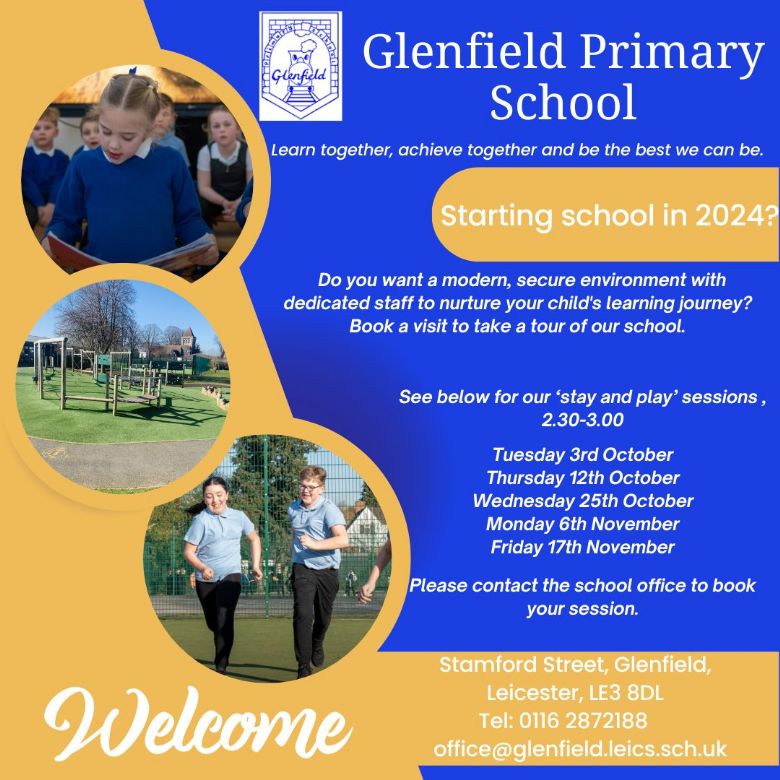 We have also created a virtual tour of our Early Years area and the school, with the help of our children. Please scroll down to see the video.
Below are some quotes from our current EYFS parents about their child's first term at Glenfield Primary School.
"Our son loves going to school and tells us everyday that he's had an "epic" time."
EYFS parent Nov 2020
"Our daughter initially struggled to adjust to full time school life, however with the care, support and encouragement from the wonderful teaching staff at Glenfield Primary, our daughter now absolutely loves attending school and has blossomed and become more confident both at home and at school."
EYFS parent Nov 2020
"I'm really impressed with the progress my son has made in EYFS at Glenfield Primary School so far. After just one half term, he has gone from not being able to read any words to reading his first book to us. Amazing!"
EYFS parent Nov 2020
"Our daughter has been warmly welcomed into her first year at school. We cannot believe how quickly she has managed to adapt and settle in which is a huge compliment to her class teachers. The learning environment inside and outside the class is enriching to the children. After only a few months into her school life our daughter has developed rapidly with her confidence in reading and writing. She cannot wait each morning to get to school!"

EYFS parent Nov 2020